By, David Decoteau
I document our travels so that when I'm old and feeble, I can pull up this page and relive the adventure while I drool and pee in my Depends.
You can let me know what you think using the comments sections below.
Day 1
Sunday 12/17/17
Newark to Dusseldorf, Germany
Drive to Newark to get on a Lufthansa flight at 4:00 p. Ken Walsh drives us in our van, and then lets the van sit at his place while we are in Germany. His neighbors think he is going into the kayak business, because of the new van. He offers them a trip.

Connector flight is cancelled. Switch rental car, and drive from Düsseldorf to Gregs place. Actually arrive early. I was very confused by the rental car and GPS. The "bread crumbs" on the screen that I am to follow throw me for a loop. The kids help me with technology and get me back on track. Takes a while to feel like things are going smoothly, because not being able to read street signs is a problem, no matter how you cut it.
Day 2
Monday 12/18/17
Bernkastel - Wittlich * Rhineland-Palatinate
Drive in was snowy and beautiful. The forest was like something out of a Grimm Brothers fairy tale. We took a little drive down to see the river and the town. Got some euros from the bank. First meal at the roadside meat stand: Connie's Imbiss . Went to the local pub in the evening.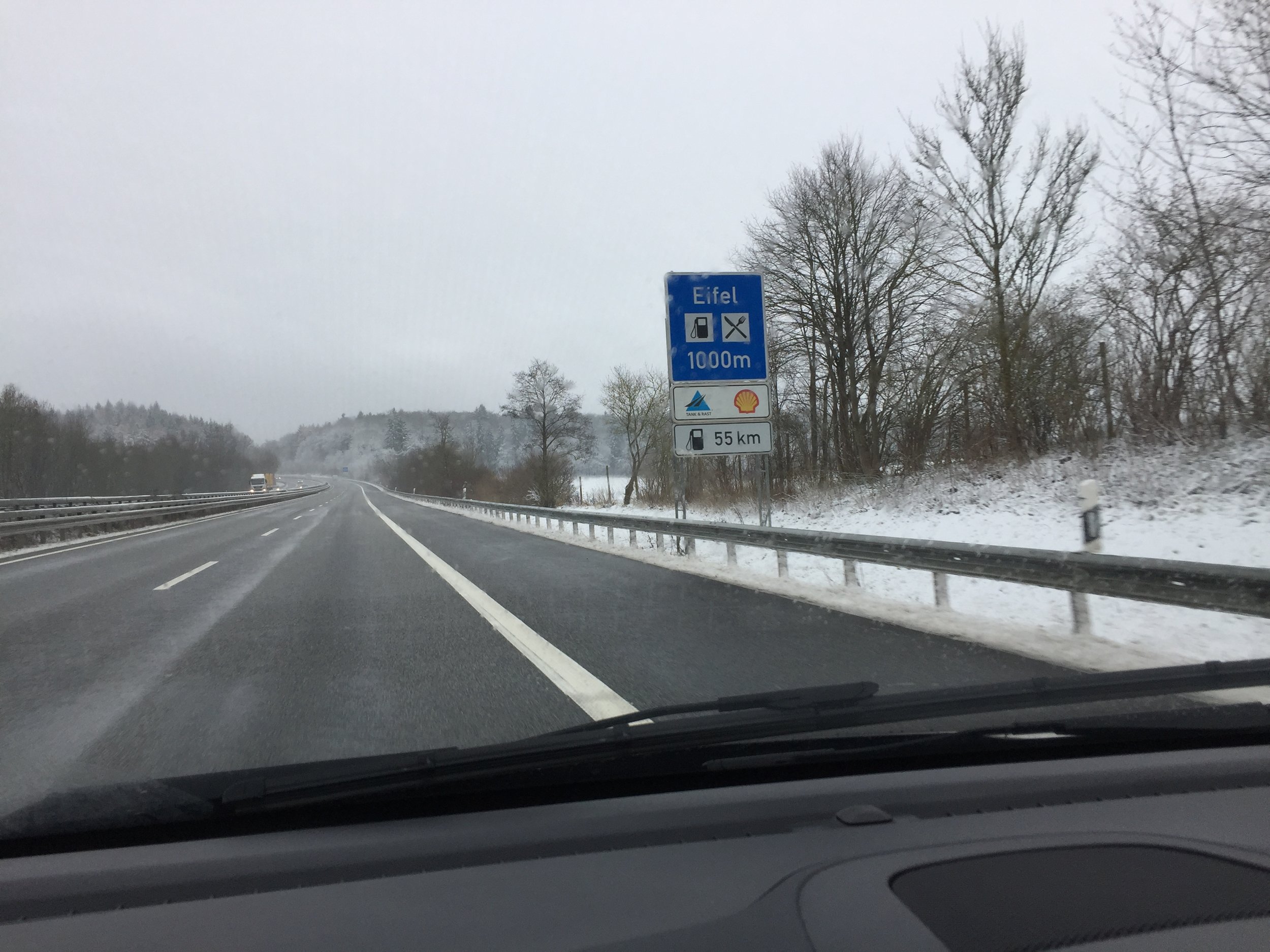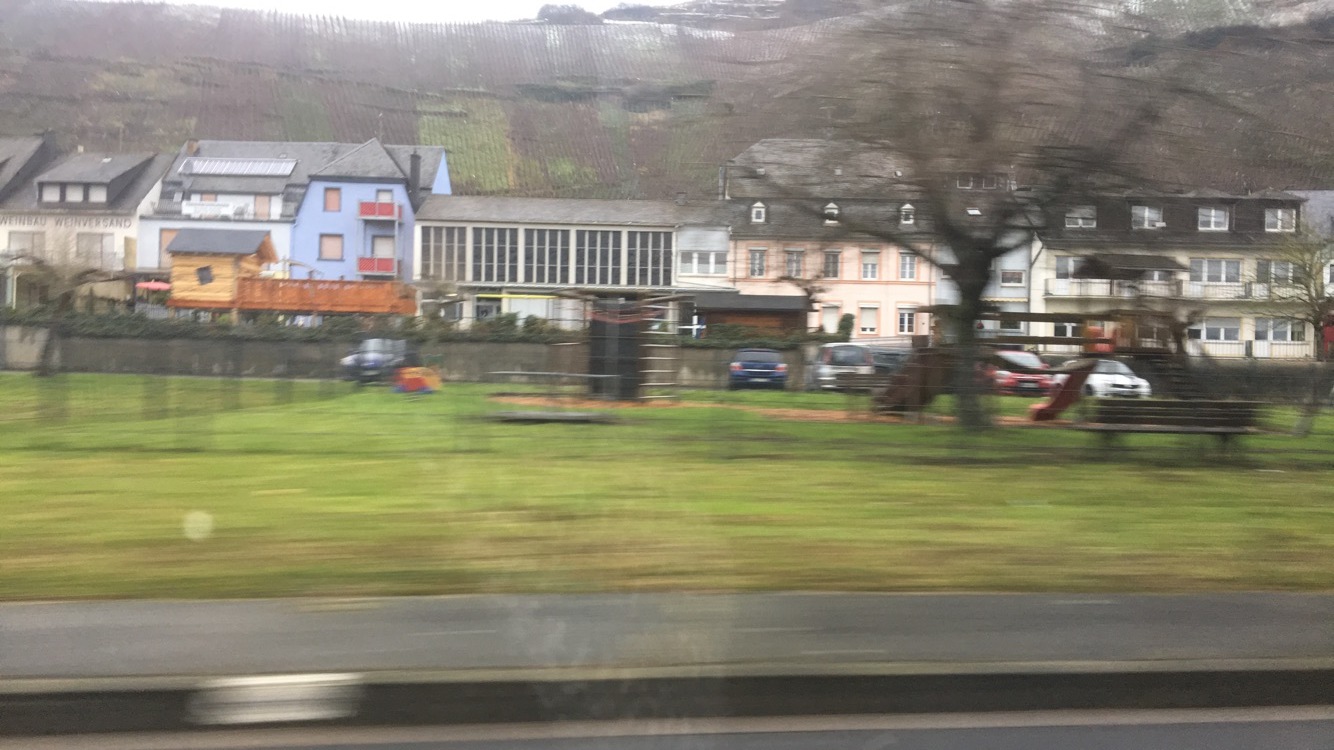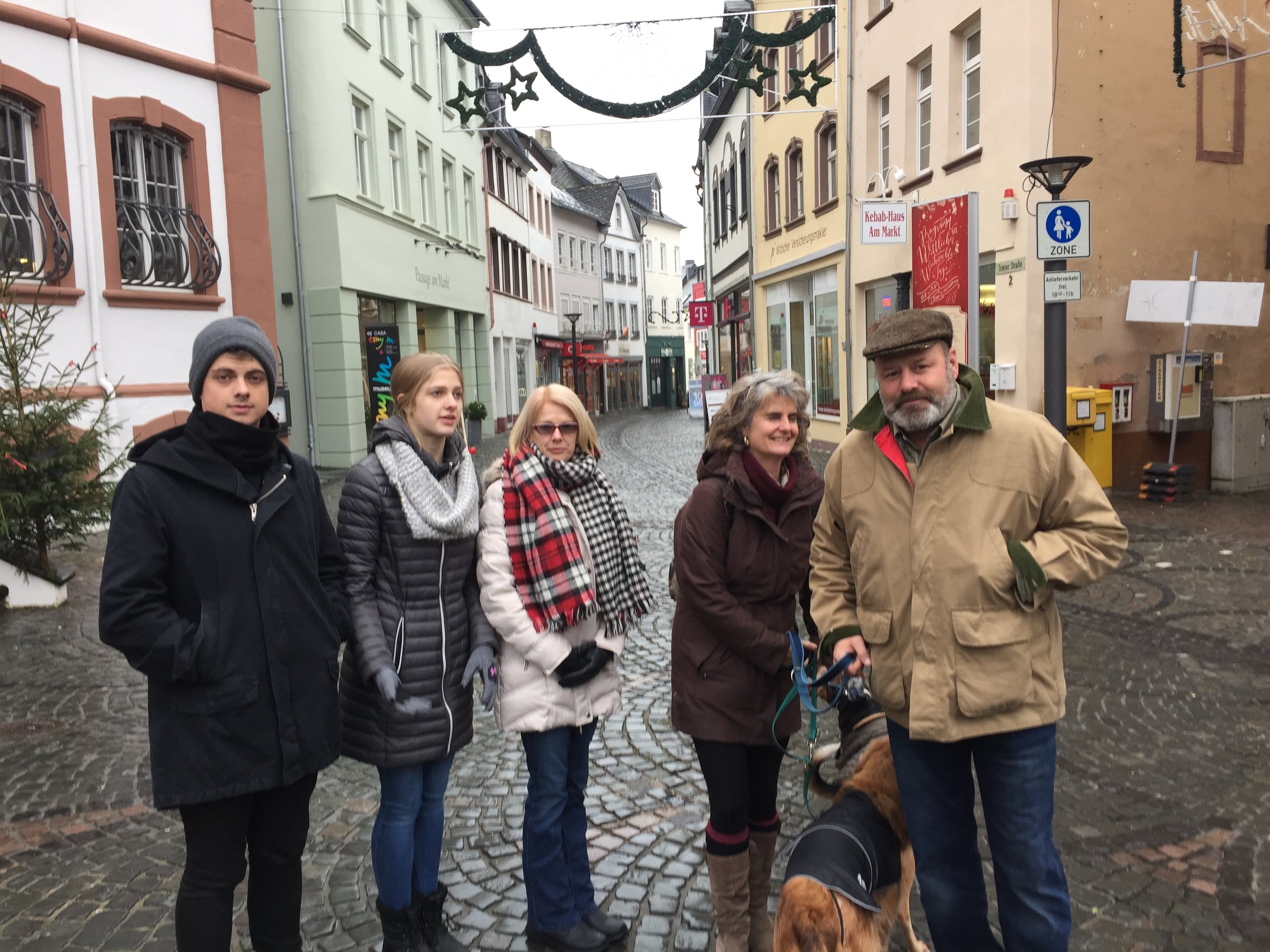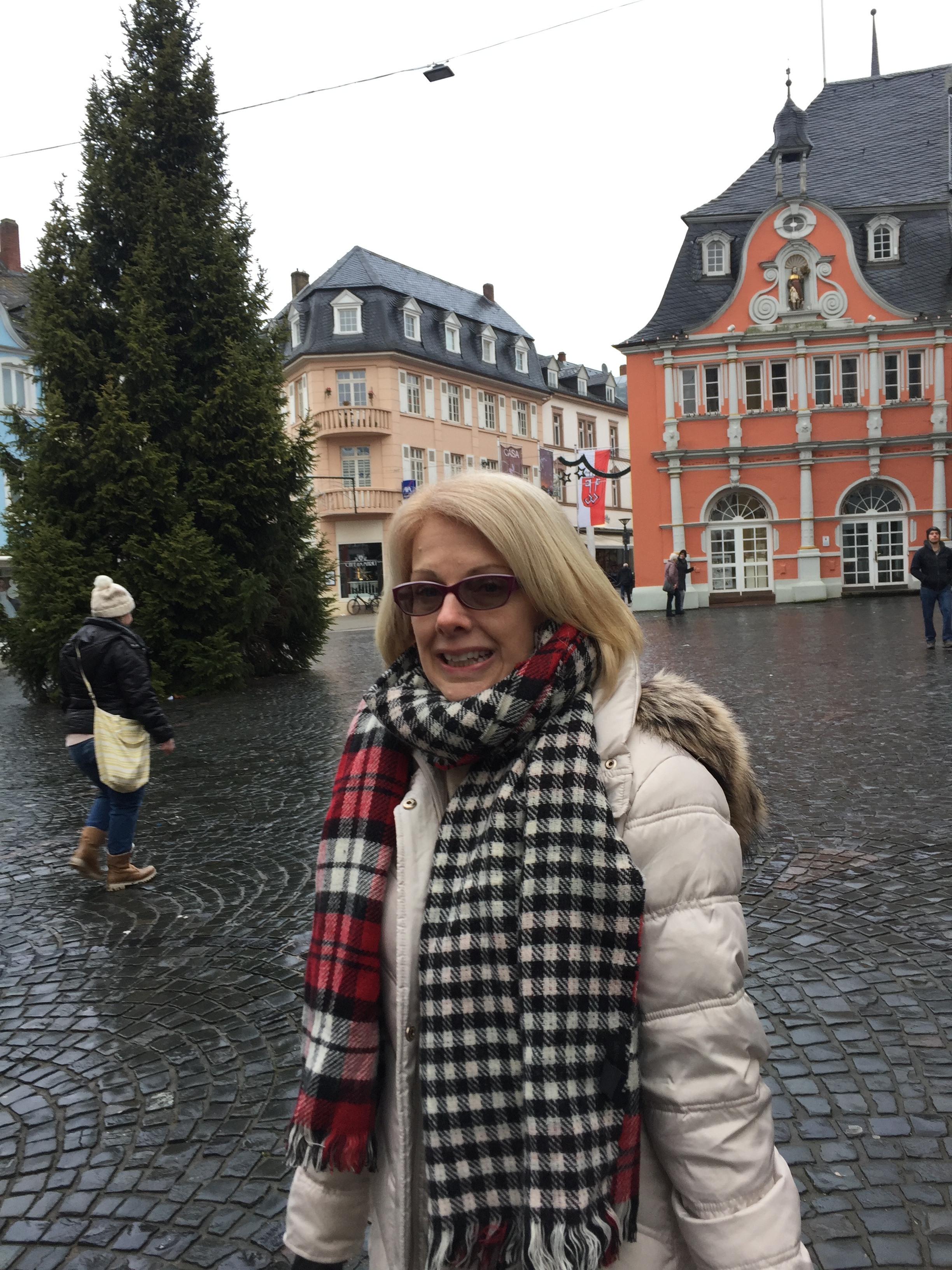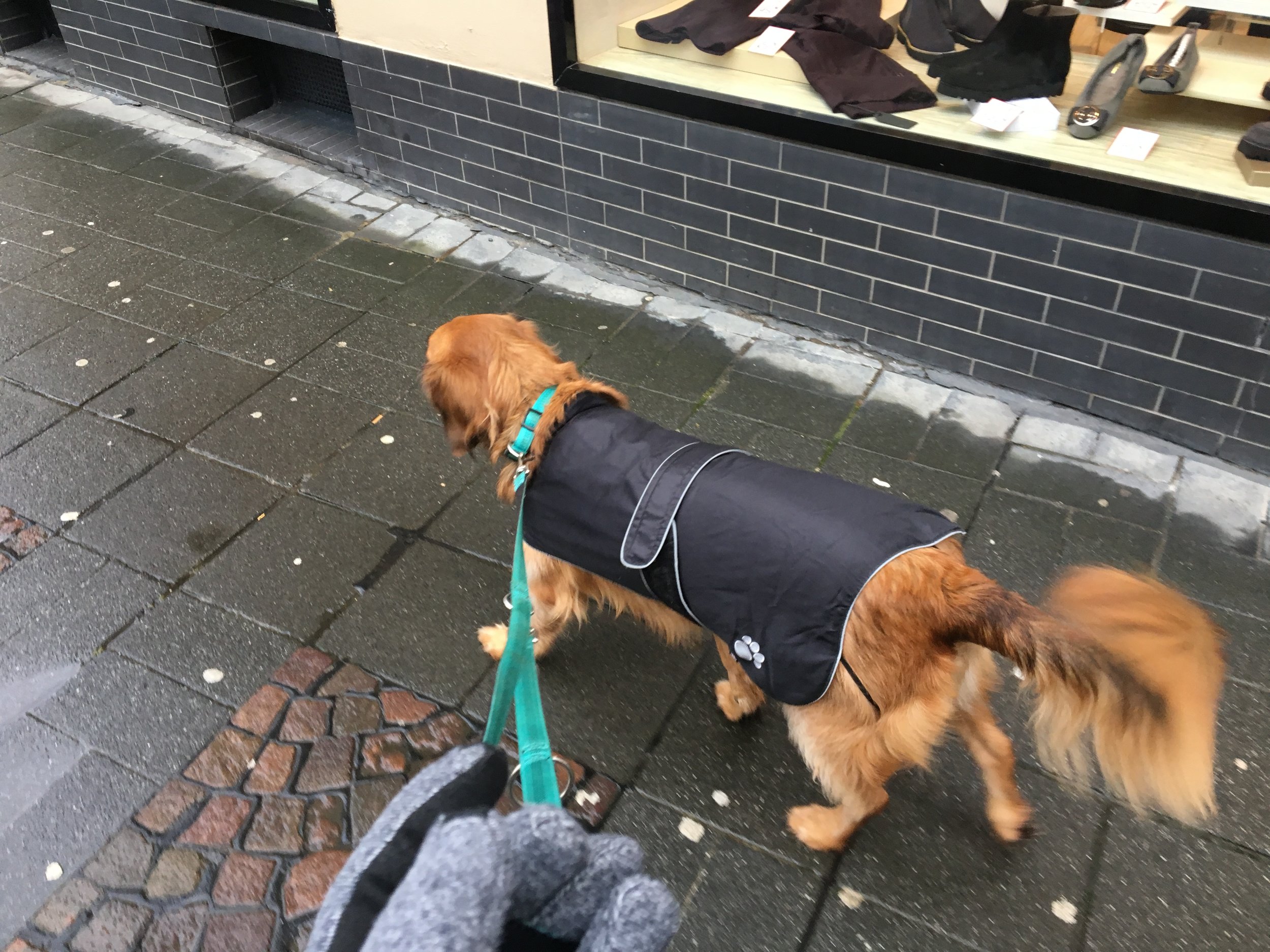 Day 3
Tuesday 12/19/17
Sehl, Trarbach & Cocham * Rhineland-Palatinate
Castle that was closed, but the cat was friendly. Dorfshanker gasthaus for dinner and drinks. Went to Schwartze Katz for wine. First night Trahen-trarbach Christmas market and had Gluhwein and currywurste. Bought stinky French cheese and deer, boar and cognac infused sausage.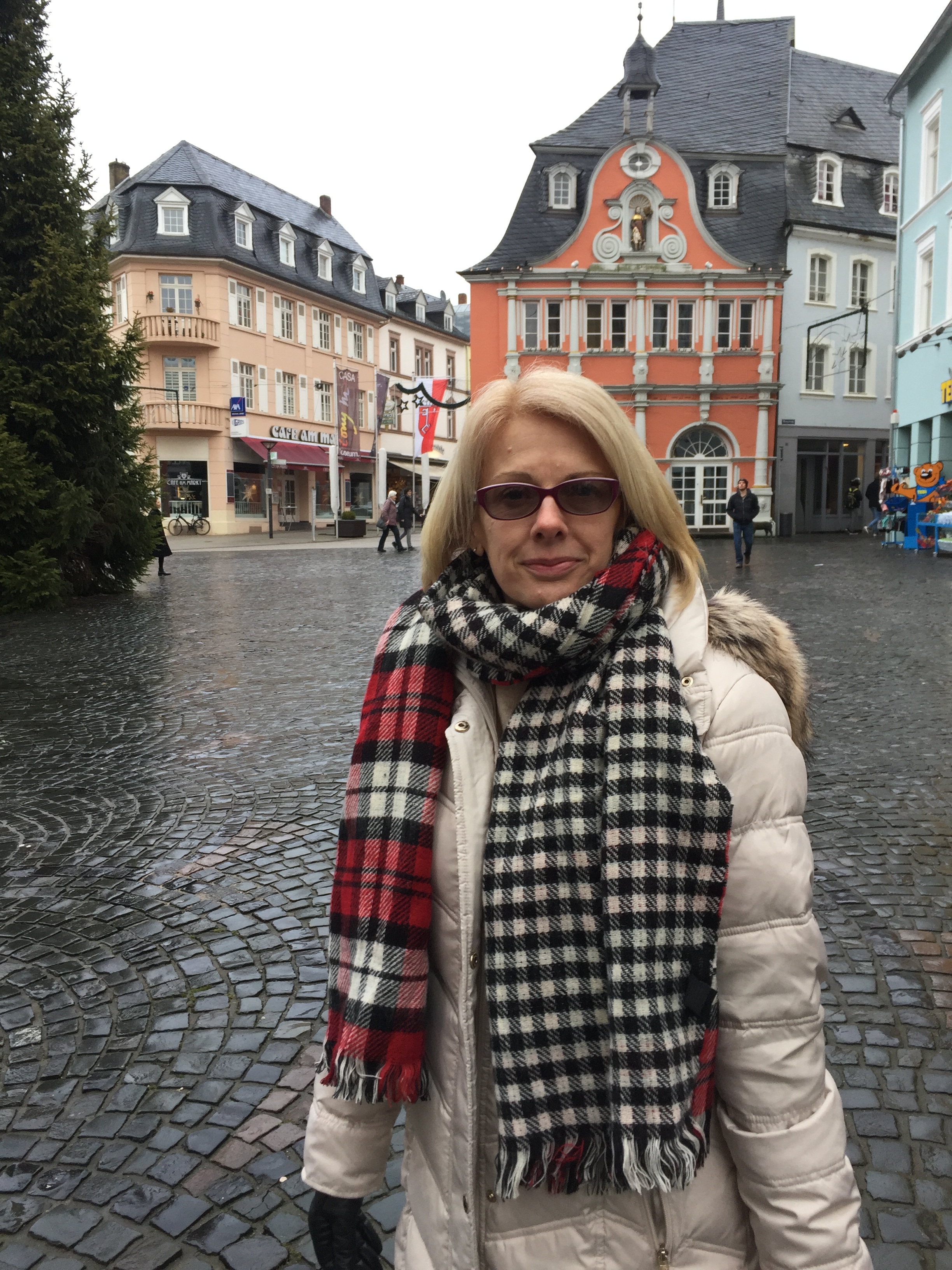 Day 4
Wednesday 12/20/17
Bernkastel-kaus, BernKastel & Rachtig * Rhineland - Palatinate
Gingerbread village, "Manna meat from the sky" from an apple-faced old lady. Frikadelle "hamburger". Gretl thinks the old lady will make the dogs (Woody & Melee) into burgers. Gretl is pleasantly mistaken. Twerking Santa. Went to the local pub where people are quiet. Up too late drinking gluhwein and Bitburger.
Day 5
Thursday 12/21/18
Bernkastel-Kues, Wittlich & Trier * Rhineland-Palatinate
Late start. Wanted to go running, but didn't. Caught a bird in front of the house. It seemed almost tame. Meter reader/bartender came to visit. Christmas tree purchased. Gassed up the car and went to Trier. Fabulous Christmas market. Dom St. Peter Cathedral is amazing.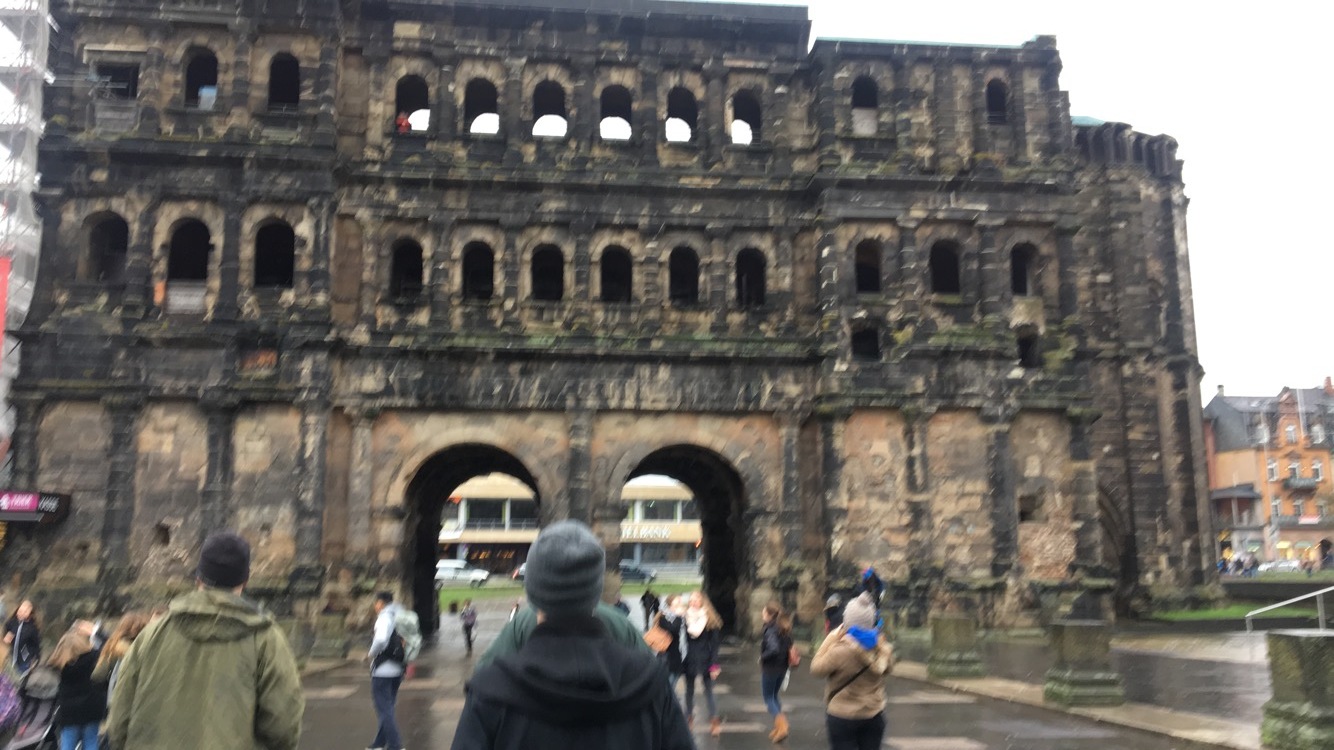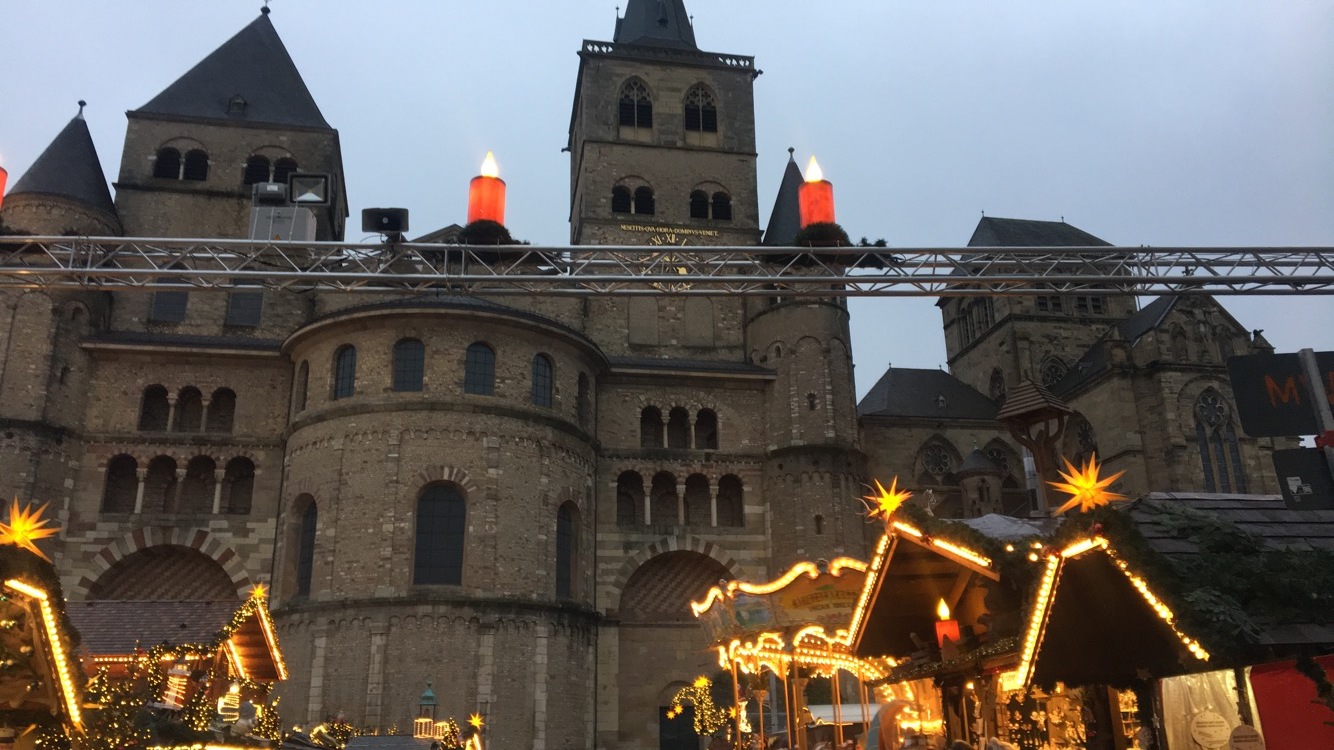 Day 6
Friday 12/22/17
Longuich
Went for a quick run in the morning. Stopped at the amazing American Cemetery Memorial on the way to Luxembourg city. George Patton is buried there with his men.
Luxembourg
Notre Dame Cathedral and the Royal Palace.
Some shopping. Chocolates. WC searches were frequent. Nice lunch, overlooking the Christmas market with Big Hoegaarden beers. Chinese leftovers for dinner and beers and conversations til around midnight.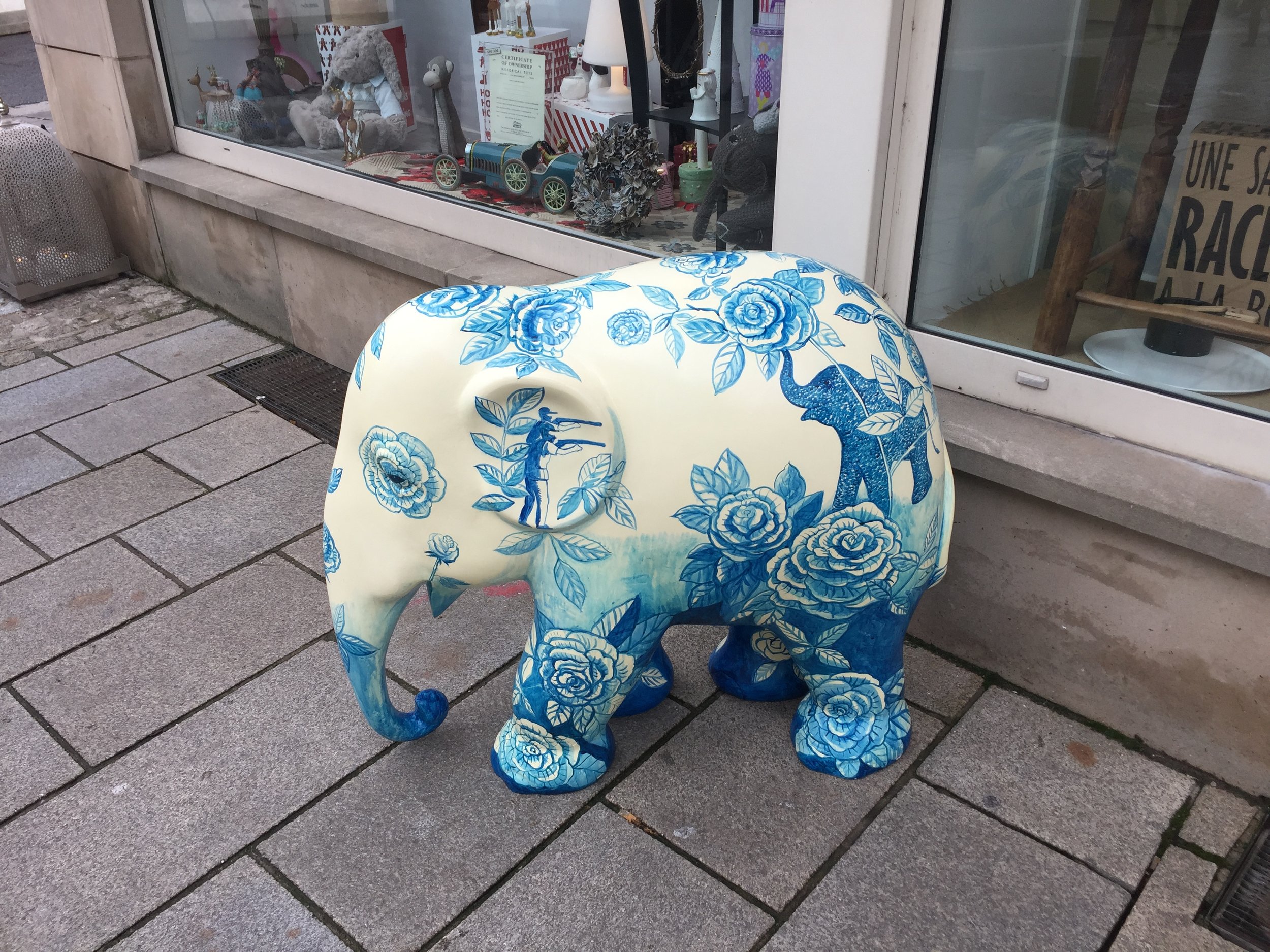 Day 7
Saturday 12/23/17
Am Hohlberg * Rhineland
Took a good run and recorded it on GoPro. Got back: shower, shave and had breakfast. We had to get some logistics together for the Christmas. Girls went for food supplies to Bungert. Boys went to get drinks. Afterward, we went for pizza and doner kabob and plate. We then split up: Kleponis's took the dogs for a walk. Decoteaus went back to Bungert to buy dinner and do a little shopping. Jake bought a hat. Liz bought a pair of Adidas sweat pants. Returned home to eat sushi, pizza and Chinese left overs. Played trivia. Boys won in a close match. Liz drank too much wine.
Day 8
Sunday 12/24/17 * CHRISTMAS EVE!
Am Hohlberg, Kinderbeuern & Bauerndorf*Rhineland
Cleaned cars. Went through buildings. Took a big walk to Kinderbeuren with dogs. Went to neighbors to have gluhwein and listen to music broadcast to the village. The party with the neighbors was kind of magical. Jake and I did a covert mission to determine the source of the music. Came back and watched Polar Express and Scrooged. Then bedtime bone-e-oes
Day 9
Monday 12/25/17 - CHRISTMAS!
Am Hohlberg * Rhineland
Cooked food. Ran a few miles in a Santa-type outfit around the village. Had a big breakfast including eggs and other leftovers. Put on our regional finest clothing. Watched a Christmas Carole with Jake and Liz. Big dinner of Pork and roast veggies. Mash potatoes. Dueling stuffings (American vs. English). Sweet potatoes, cabbage, gravy.
Watched It's a Wonderful Life. Everyone had fun. Then we had some drama, based in the standard too much drinking nonsense. Ended poorly, but tomorrow is another day.
Day 10
Tuesday 12/26/17 - BOXING DAY
Brussels
Got up early and went to Brussels. Some apologies were offered. People were tired, but we made it happen. Brussels was beautiful. The sun actually shined on us when we went to Belgium. As soon as we drove back into Germany, it started raining again. Saw the royal palace, had waffles. Liz had a good steak, and I had rabbit. Morgan had chicken kabob. Jake had veal and noodles. Saw The Delirium factory and theme statues. People slept on the ride home and got a second wind. Got some food, and went to Skittles. We had a lot of fun and we went to bed at a reasonable time.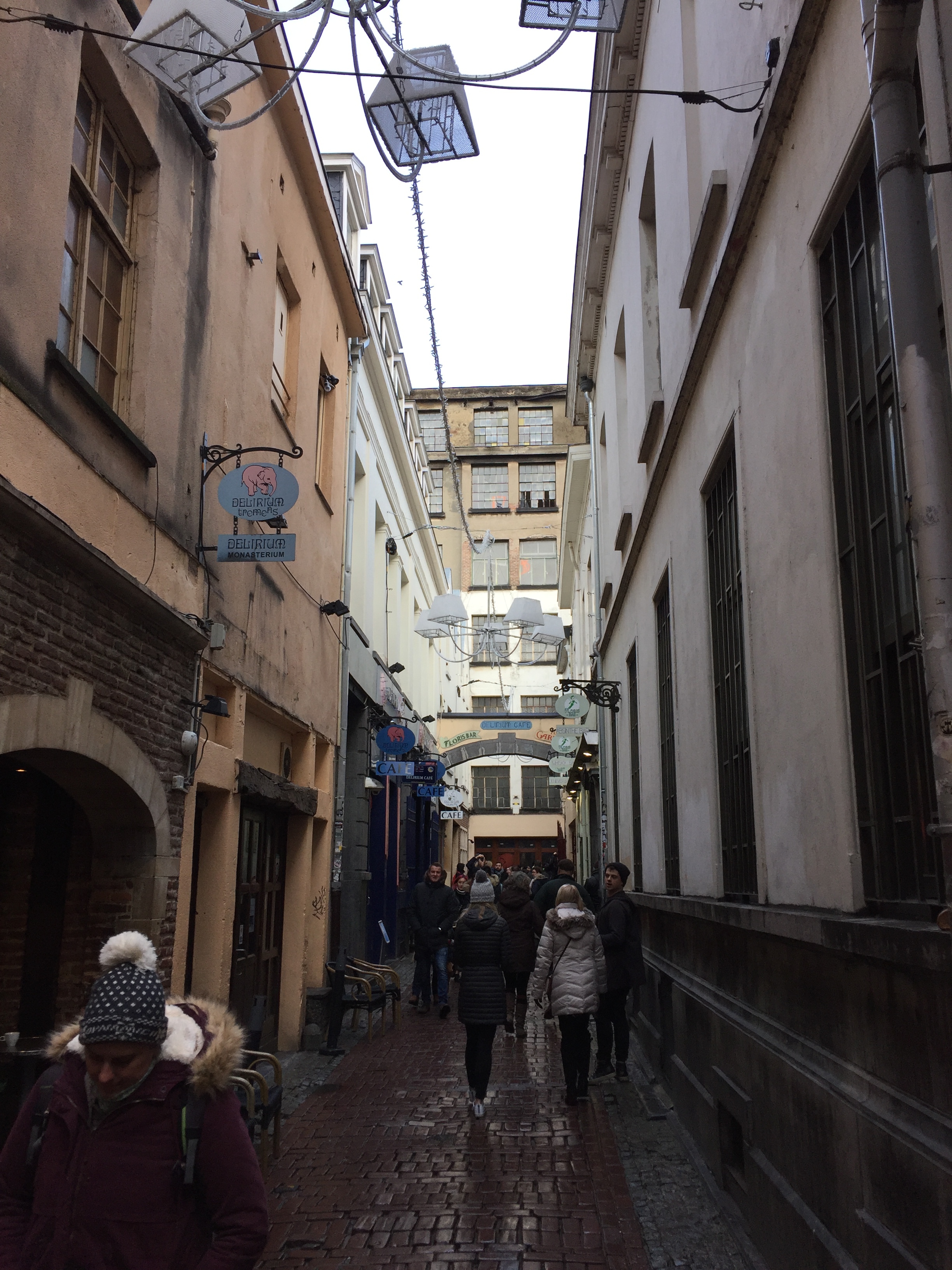 Really fun evening of Skittles with friends.
Day 11
Wednesday 12/27/17
Rudesheim am Rhein & Frankfurt * Rhineland
Went for my final run. 5k in the rain that was nice. Got packed and on the road by 10:30a. Went to Rüdesheim am Rhein. Got a few trinkets and had a nice lunch featuring a traditional, burning coffee drink called Rüdesheimer Kaffee. It's a hot coffee and top with whipped cream; chocolate mint garnish. It's an alcoholic coffee drink from Rüdesheim am Rhein in Germany invented in 1957 by the German television chef, Hans Karl Adam. It is a popular drink in coffee houses. Asbach Uralt brandy and sugar cubes are added to a special cup and saucer set. After lunch, we separated. Gretl and Greg heading back to their home in Germany. We set a course to Frankfurt. Spent an enjoyable evening in Frankfurt in shops and eating some dinner (including McDonalds). Back to the hotel to print boarding passes, and do last minute adjustments to luggage and logistics.
Day 12
Thursday 12/28/17 - TRAVEL DAY
Frankurt to Toronto to Newark
got up at 6:00 a. after a restless night of half-sleep at the hotel. Breakfast at 6:30 a. In the car by 7:00 a. Enterprise rental car by 7:20 a. Done with rental, and in the airport by 8:00 a. Flight leaves at 10:00, so we have plenty of time. My bag is overweight, so we need to do some rearranging. In the end, I need to create another bag, using the Bungert bag that I put in my luggage just in case. Problem solved.
A baggage tale
My check bag is overweight, so we need to do some rearranging. In the end, I need to create another bag, using the Bungert bag that I put in my luggage just in case. Problem solved.
Next problem, the flight is overbooked, and they are asking passengers to check any carry-on bags they have over one. So now, I have to check the bag that they made me create. As they take this bag, I get a strong feeling that it will be the last time I ever see that bag. They didn't seem to have a procedure that allowed me to trust that the bag would arrive at Newark when I arrived. Therefore, I worried the whole flight (between eating, and watching Life of Pi, and playing some games, and reading my book, Haunted, by Chuck Palahniuk).
When we arrive in Toronto, I am detained at a customs check point. Reason being: my extra checked bag has not been yet connected to my arrival log-in. This costs us about 30 minutes, but eventually the bag is registered and I am cleared to proceed.
Bottom line: the bag comes up the baggage chute at Newark at the end of the flight: and we cheer. People actually look at us funny, as the involuntary celebration made by all of us simultaneously is very audible.
Denouement
Ken picks us up and gets us to the Allentown area safely. We then have about 5 more hours on the road to get Jake back to Philly, and then ourselves home. The last hour or so was coffee-filled and tough, as exhaustion was starting to take its toll after nearly 24 hrs traveling.
But we made it, and the house wasn't frozen, and we went on with our lives. Lives now featuring a German Christmas experience with our friends and wonderful hosts Greg and Gretl. It's an experience we will never forget.