PORK BELLY VENTURES

Team PA Pestilence - next level support Outfitter

Weez Recommended and Approved

David "Weez" Vannicola used "The Porkers" as his Outfitter service, and gave them good reviews. Pork Belly Ventures is the largest Outfitter of RAGBRAI, and thereby one of the standards by which service and support is measured. If anyone from TEAM PA PESTILENCE is desirous of a level of comfort above and beyond the standard Pests experience: this is a good place to start your quest for more support.

In short, they offer things like:

Tent set up service
Massage
Cell phone charging stations
Hot showers
Dry towels
Laundry service
Early food and drink
Late food and drink
Sag support
And many more things listed below.
It's a long page, with lots of information. You need to READ IT ALL, so that there are no surprises. But if the standard "Team Pestilence" rabble experience isn't doing it for you, or you need to fly in to Iowa, and then join up with Team Pestilence - this might be of interest.
Straight from the Porkers mouths

We at Pork Belly Ventures would like to contribute to your good stuff during RAGBRAI 2015, starting at 4:30 a.m. when Rex brews the first batch of Dunkin Donuts coffee. It will be our pleasure to create your home base in each overnight town, setting up all of our equipment on a 6- or 8-acre site, creating that social zone under the canopies with chairs and misting fans, setting up tonight's supper and erecting our stage for some live music in camp. By the time you ride in, the showers will be hot--all 56 of them--the beverages will be cold, and all Pork Thingys will be operational. Our experts will adjust your bike, rub your sore muscles, and help you however we can. The next morning, we'll break camp, truck the whole thing down the road, and be ready for you again when you roll into town.

 

Check out Pork Testimonials to learn more about the friendliest crew on RAGBRAI. We hope you'll hitch your wagon to our, er, how does it go? Maybe it's our wagon. Anyway, we invite you to come along with PBV as we Roll With It for the 22nd time.

 

This letter is organized with the more urgent stuff up front. The new dates and route, our newest features, and 2015 Service and Price List are the next things you'll find in this letter, followed by descriptions of our services.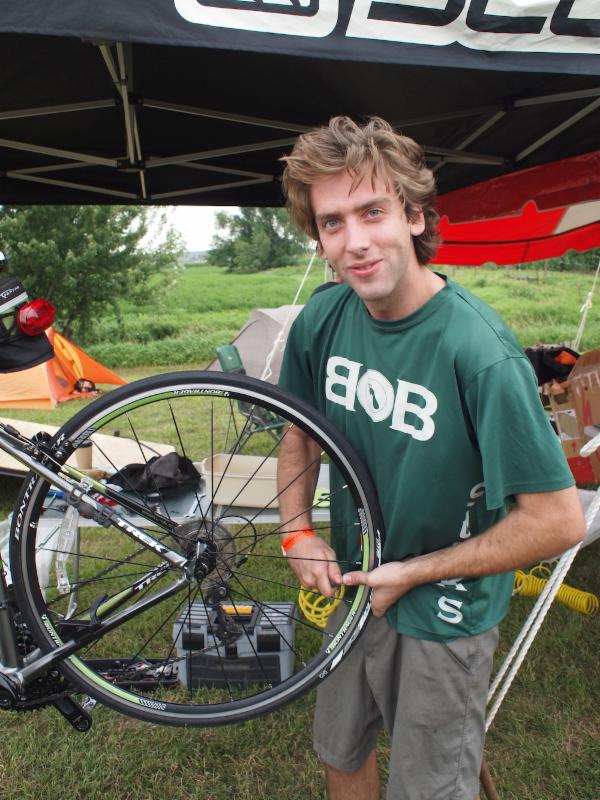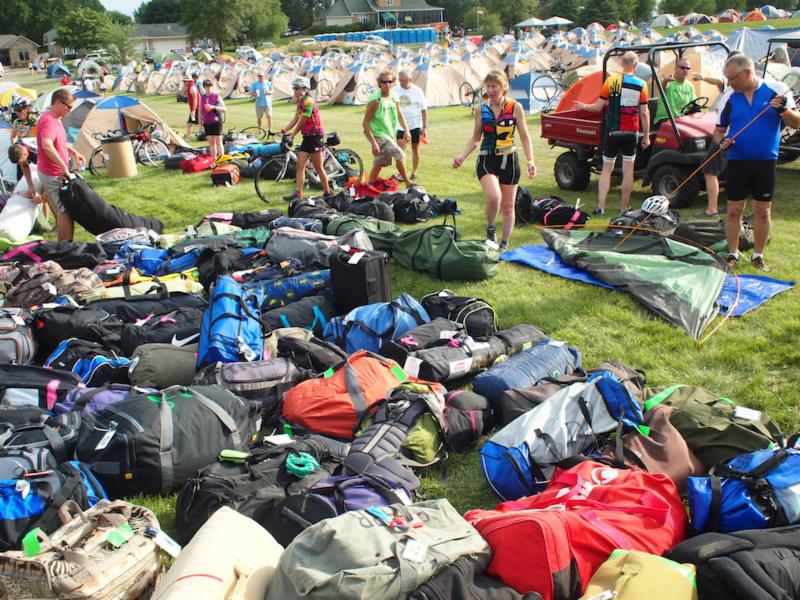 We've arranged our Frequently Asked Questions into these categories:
 

1) The Latest Info: Dates, Route, and Prices

2) Registration with PBV and with RAGBRAI

3) Hotels, Parking, and Bike Shipping

4) Other Important Questions

 

By design, our invitation letter is long. We want you to have the info you need in one place. Today you might scan and see what's here. Later, you can look at the details.

THE LATEST INFO: IMPROVEMENTS AND PBV SERVICES

 

What recent improvements has PBV made? Here's a loose list of recent additions to our services:

 

A Bunch More Shower Stalls--If you've been reading our updates, you know that we are building another trailer to increase our shower stalls from 36 to 56 shower stalls in Pork Camp.

 

Contracted Kybos--we'll arrange for a bank of kybos in Pork Camp every day, in addition to our restroom trailer with 12 flushing fixtures.

 

Shipped Bike Pre-Assembly--For the first time, we'll offer the option to have your shipped bike assembled before you arrive

 

Friday East/West Shuttle--Until last year, we offered this shuttle on Saturday only. Friday was a hit, so we'll offer it on both days this year.

 

Half Hog Transportation--We have always offered a Partial Week with PBV for those who can't do the Whole Hog. Now we're going to provide the bus transportation. We hope to offer a convenient way to ride either the first half of the week or the last half. More on this in a future update.

 

Local Lunch and Breakfast Vendors in Camp--On RAGBRAI, you get hungry, and you don't want to walk six blocks or ride a shuttle bus to your snack. We managed every day last year to line up food vendors for a crack-of-dawn breakfast items and all-afternoon lunch. We'll try again.

 

Hotel Stays--There's an intense competition for hotel rooms on or near this ride. Last year, we got big blocks of rooms on five nights and small blocks of rooms on two nights. Our motorcoach will transfer Porkers to/from camp. These options will be published to you in June. Wish me luck in the Room Race!

 

Indoor Camping--We make arrangements wherever we can. Last year we offered four opportunities for indoor camping (in a church across the street from camp, a large conference room in a bank across the street from camp, two air-conditioned fairgrounds buildings, and on a nearby farm).

 

Carolyn's Iowa Memento--Our favorite Iowa artist is already at work on a new Pork Memento. Details to come. Carolyn often surprises us with special pieces of art, and you'll notice examples in this letter and future updates.

 

Choice of Six Shuttles--we have added new shuttles to meet your transportation needs before and after the ride.

 

Recently-Built Pork Equipment includes our walk-in Phone-Charging Trailer and our Royal Flush Trailer, the restroom trailer with 12 flushing fixtures. The Pork Infrastructure grows every year.

 

Mystery Thingy-Pete has ordered a new trailer, but you'll have to wait and see what he's planning to do with it. Stand by for the Thingy Reveal later in the season.

 

We will continue to imagine new Pork Perks and better Pork Pleasures. Pete and the guys have other exciting ideas in the hopper, enough to carry us to RAGBRAI 50. It comes down to how many ideas we can implement in a year. Anyhow, see the full description of our 2014 support below.

PBV Heavy Lifters

What are Pork Belly's services and prices?

 

No big changes in price this year, Porkers. Weeklong Support stayed the same. Some bus prices came down this year, due to shorter distances. Our tent service price increased slightly. Here are our services, mainly in chronological order. Scroll for our round-trip Des Moines Shuttle at the end.

 

Bus from Omaha Airport to the Start Town

On Saturday, the 18th, we'll meet you at Omaha's Eppley Airport and transport you, your baggage, and your bike to our campsite in the RAGBRAI start town. (Last bus will depart by 4:00 p.m.)

$60 per person

 

East/West Shuttle

If you want to park your car in the end town before the ride, we'll meet you there either on Friday afternoon or early on Saturday the 18th and transport you, your baggage, and your bike to the start town

$150 per person

 

Weeklong Support for Rider

While you bicycle from host town to host town, we can transport your baggage across Iowa for the week, from west to east, providing meals, entertainment, your daily shower and towel fee, and many amenities and support services, described more fully below.

$405 per person for the full week. We can prorate this price for partial-week clients at $60 per person per day.

 

Weeklong Support for Non-riders is available for $555 per person, but please contact us for a visit about your week.

 

Partial Week with Pork Belly Ventures is $60 per person per day.

 

Child Price for Weeklong Support is $200 for kids under 13 years of age, and they must be accompanied by an adult, of course.

 

Return Bus to OmahaOn Saturday, the 25th, we'll transport you, your baggage, and your bike from the end town to an Omaha Airport hotel (see Hotel section below), so you can fly or drive home on Sunday.

$145 per person

 

Shuttle to Airport Near End-TownOn Saturday, the 25th, we'll transport you and your baggage from the end town to the nearest airport, which is the Quad Cities International Airport. There will likely be two afternoon departure times. It's a pretty short trip barring traffic slow-downs. Watch updates for further details.

$35 per person

 

Optional Tent Rental and Daily Set-up See full description and details below. Available only to those on our Weeklong Support.

$440 per tent - price is the same for one or two tent occupants.

Add $100 for a third tent occupant (We don't recommend this tent for three people unless one or more people are children.)

Round-trip Des Moines Bus Transportation

Bus service from Des Moines to Sioux City is $125, and the return from Davenport to Des Moines is $105. The round trip bus service is $230. We'll depart from and return to the Holiday Inn Airport Hotel.

 

Our services are available on an ala carte basis. You may use any combination of these services (except that the optional Tent Rental and Daily Set-up is available only to those on our Weeklong Support).

 

We use comfortable, quality motorcoaches, restroom-equipped and air-conditioned.

 

What all is included in PBV's Weeklong Support in 2015?

As we add services, it's getting harder to list what we provide for our Weeklong Porkers (and for those who prorate the week with us). But see below, and the majority of these items are simply included. We have noted a few services like massage and laundry that are optional, reasonably priced, and extremely convenient to have available right in your campsite. Here's what you can expect with Pork Belly's Weeklong Support:

 

During RAGBRAI:

 

NEW IN 2015: Increased Number of Shower Stalls for Your Daily Shower and Towel. Our new shower trailer brings the number of shower stalls in Pork Camp up to 56. We provide your private showers in camp with hot water on demand. Trailers are air-conditioned, and you'll find soap and shampoo dispensers in every stall. Your PBV wristband admits you to the shower, so yes, you may take more than one a day if you like.

 

Porkers on the Phone-Charging Trailer, well-lighted in the evening

 

NEW IN 2015: A Bank of Kybos, contracted by PBV. For more than 20 years, the overnight towns have provided our kybos, while we have provided the flushing fixtures on our Restroom Trailer. But we have decided to contract for our own kybos to have more control over their placement in our campsites.

 

Transport of two bags per person from host town to host town

 

Excellent, well-appointed, spacious RESERVED campsites

 

PBV Locations on a laminated card at check-in

 

A New Team Shirt, poly-dri, design to be announced. Be sure to include your shirt size when you apply online for our Weeklong Support.

 

Phone-Charging Trailer with locking compartments for charging electronic devices. Trailer will be locked overnight, but charging continues until it's unlocked in the morning about 5:00.

 

Our Royal Flush, the restroom trailer, with flushing toilets and urinals, sinks and soap-dispensers, mirrors, ventilation fans, and lighting. So much cleaner than kybos.

 

Old-fashioned, delicious Iowa root beer floats sometime during the week, probably more than once.

 

Our Open-Air Living Rooms (huge shady circus tents) with chairs and a misting system to refresh you

 

Our friendly Front Desk crew, ready to direct you to showers, kybos, and local amenities

 

Ice-cold beverages at the Front Desk, about 90 cents each, plus free lemonade in the afternoon and through dinner.

 

Hot CoffeeRex and Kim start brewing at 4:30 a.m., three gallons of Dunkin' Donuts every eight minutes. Hot chocolate and hot tea, too.

We'll plan a variety of supper menus from the best local caterers.

(We can usually arrange a vegetarian alternate entree for our included suppers.)

 

Three Delicious Suppers in Camp. Hearty menus provided by the best local caterers in each host town. After our May scouting trips, we'll give you this year's menus.

 

MassageEight or more therapists this year, strong and superb, working in our massage tent (additional charge). Book 15, 30, or 60 minutes (or longer) of restorative massage. What difference it makes to your muscles!

Book early for a massage from one of PBV's excellent therapists.

Professional Bike Mechanics, great guys and girls, set up in camp daily from 3:00 p.m. on to help you with minor repairs.

 

PBV's Midweek Laundry Service (optional, extra charge) We'll take your stuff from wet and smelly to dry, fresh, and folded. Take the stink out of your duffel---for a little while.

 

Pete's Shower ThingyA RAGBRAI classic, our original first-ever Thingy is a table, plumbed with five spigots, is equipped with a mirror and a wringer for your bike shorts. Fill water bottles, shave, brush your teeth, or just cool off. This Thingy is available in the morning until 7:00 a.m.

Now a vintage part of the Pork Infrastructure, here's the original Thingy of PBV.

Pump Thingy, a special compressor and pressure regulator to make pumping your tires a breeze.

Free weeklong storage of your hard-shell bike case or bike box-$20 value, free to weeklong Porkers.

 

Luxury SAG Service Details below, additional charge of $25 per use.

 

Free mechanical assistance with your shipped bicycle, getting it assembled and road ready.

 

Upwards of eighty friendly, able-bodied, can-do crew members (not including bike mechanics or massage therapists) to help, comfort, and revive you.

 

Other Needs: During the waking hours, there is always an available crew member or crew chief to answer your questions or help you. We always have three or more paramedics on our crew. If you don't know who to ask, start at the front desk. They have band aids, a hammer for your stakes, a ziplock bag, whatever you need.

 

Before RAGBRAI:

 

Around 30 informative email updates to help you plan and prepare

 

PBV Host-Town Maps sent to you in PDF format, showing our campsites in relationship to other amenities, with GeoBike Elevation Statistics for each RAGBRAI day

 

Prompt answers to your questions on email and by phone

 

Our comprehensive June Letter with virtually all the info you need in one document

 

The Pork Belly App for Smartphones, to help you learn more about our charter and RAGBRAI before the ride, with useful tools like route maps and host-town maps during the ride. It's FREE--get it now at your App Store.

 

A compilation of Tips for First-Timers from our RAGBRAI Veterans

 

An opportunity to ship your bike through SendMyBike.com to PBV in Iowa

 

Upon arrival, mechanical assistance with uncrating your bike and getting it road ready

 

Packaging of your bike to ship home--just hand it over (additional charge)

 

A special FedEx receiving area right in our camp at the end town for shipped bikes

A fond-farewell letter that recounts the week's highlights

 

An audio-visual memento of our week together

 

 

*Each town's host committee has the final say on shower venders. This has never happened to us, but it's possible that a town may prefer that we use their showers instead of ours. When we scout in early May, we'll make arrangements in each town, and in any case, every Porker will receive a daily shower from PBV.

Brian helping riders who shipped their bikes to Iowa.

Do I need that much support? Maybe not. There are lots of ways to ride RAGBRAI, and we're happy to tell you about lower-priced options.

 

Most of our riders have grown to appreciate more support. They want to focus on riding their miles and enjoying their Week in the Corn. They depend on us for the lively little Pork village that they can call home within the throng of RAGBRAI. Some of them plan to explore the overnight towns, but in case they are tired after a long, hot road, they want to find their shower, snacks and meals, cold drinks, an electrical outlet, a shady social area, friendly bike mechanics, restorative massage therapy, and some happy live music right in camp. Some of our riders are dealing with a medical issue and appreciate an extra level of support. We can refrigerate medication. We have three licensed paramedics on our crew. We provide a comfortable (and legal) option for sagging on any given day of RAGBRAI.

Our Weeklong Support could mean the difference between a complicated, exhausting bike trip and a carefree athletic adventure. This is your vacation after all, and we hope we don't seem immodest when we say that the extra $200 you spend for our Weeklong Support (as opposed to the price of a typical baggage service, which costs about $200 less than our support) could be the best money you spend all week.

 

What's included in Pork Belly's Tent Rental and Daily Set-up? Our quality rental tents are 63 square feet (8.5' X 7.5'). With duffels inside, we consider our tent a roomy two-man. You can share, or you can occupy it alone. Tent-renters simply pack up their bags in the morning, leave them inside the tent, and pedal away. Enjoy your ride, and in the next host town you'll find your chores are already done--tent up with bags inside--so you can catch your breath under canopies or head off to the shower immediately. We'll set up Tent City on the same grid every day. Address cards will help you locate yours. We're happy to arrange the grid so that friends are next door to each other. This service has sold out in the past, so it might be wise to claim your tent early.

 

We have limitations: We'll aim for set-up by noon each day, but host town traffic or inclement weather might put our crew a bit behind. If you pride yourself on arriving very early in camp, we don't recommend using the tent service--you'll be happier if you just set up your own tent on your own schedule. We don't recommend three to a tent unless one occupant is a child, and there's an extra charge of $100 for handling the third person's baggage.

Most days, this place is a golf course.

On July 20, 2014, it was our lovely campsite,
virtually surrounded by restaurants.

Suppose I want to bring my own tent? That's absolutely fine. Over half of our Porkers do that. We'll carry your tent and other gear (two-bag-per-person limit) from town to town, and we'll have plenty of camping space for everyone.

 

What's the daily Pork Shower like? Your daily, hot, private shower with a towel is included in your Weeklong Support. Each bather has a private dressing area outside the shower stall; you keep your stuff with you, and it doesn't get wet. Shampoo and liquid soap are provided, and stalls are wiped down regularly throughout the day. Since your Pork Wristband admits you to the shower, you can take more than one shower per day if you like. These trailers are air-conditioned. There seems to be consensus that this is the best shower on RAGBRAI. For the past five years, each host town has allowed our shower vender to be located right in Pork Camp every day.

 

Special Note: On an event like RAGBRAI, waiting in line is normal. At peak times of the day, usually late afternoon, lines may form for our showers, even though we have 56 stalls in camp (up from 36 stalls in 2014). Remember, please, that many RAGBRAIers will walk or take a shuttle to a shower facility and wait in line for cold water and no privacy. You, on the other hand, will be surrounded by amenities in Pork Camp, and any waiting will result in your hot and private shower on an air-conditioned trailer right in our campsite.

 

What if I want to SAG, take a day off the bike? Depend on our cushy 56-passenger motorcoach and driver for the purpose of sagging riders who do not choose to cycle on a given day. We'll transport bikes by hanging them by a wheel, as we do on our east/west shuttle. You're welcome to place bags under the bus for immediate access to them in the next campsite. You'll depart each day at 7:00 a.m., and you'll be in our new camp by about 9:30 a.m. On some days, we'll make a breakfast stop. The bus has AC, the seats are soft, and you can snooze all the way to the next host town. The restroom is larger than a standard kybo. This is a very comfortable and secure way for you and your bike to get to the next host town for $25 per day. (There's a special price for non-cyclists spending the full week with us. If you don't bring a bike at all, the price is $150 for the week of town-to-town transfers, in addition to $405 for our Weeklong Support.)

 

What's the advantage of booking a round trip into and out of Omaha? Omaha is our most popular airport shuttle. Basically we take care of you from the time you reach baggage claim in Omaha to the time you step off our bus at your Omaha airport hotel on the evening of the 25th. You simply make air and hotel reservations and register with us. (See below for Pork Hotels.) We'll meet you at the Omaha airport and deliver you to the start town on a comfy coach. You're ours for eight days. At the end of the ride, climb aboard our Omaha-bound coach and doze off. After a meal stop, we'll drop you about 10:00 or 11:00 p.m. at our side-by-side airport hotels. On Sunday, the free hotel shuttle will take you to the airport.

Will Pork Belly offer a shuttle from the end town to the nearest airport? Yes, and that airport is the Quad Cities International Airport. We will likely offer two departure times on the last afternoon of RAGBRAI, Saturday, July 25th.

 

Will Pork Belly offer a round-trip shuttle from/to a Des Moines hotel? Yes we will--or you can use this shuttle one way. We will depart from and return to the Holiday Inn Airport Hotel, where we have reserved a block of rooms on Friday, July 17th, and on Saturday, July 25th. Our rate is $95 per room. Call 515-287-2400 and mention our name. (During business hours, ask for Janice.)

 

A round-trip Des Moines airport shuttle is $230. It's $125 from the DM Airport hotel to the ride start, and $105 back to the hotel at ride's end. This service can now be selected on our application. Questions? Please write to tammypav@cox.net.

 

At the end of RAGBRAI, what are my transportation options with PBV? We can take you to the Quad Cities airport. We can take you to the Des Moines Airport Holiday Inn, or we can take you to our side-by-side hotels at the Omaha airport. At this writing, we have only known the route for a couple of hours, but we'll publish an update soon with estimated departure times on these shuttles. It's unlikely that we'll depart earlier than 1:30 or later than 4:00.

 

What is the advantage of using the PBV East/West Shuttle? It's ideal for people who live within driving distance of RAGBRAI's end town. You drive to the end town on Friday the 17th and park your car in the designated long-term parking (the host committee will charge a parking fee; see their website after May 1). You may also drive into the end town very early on Saturday--but plan for traffic congesion. Our crew will meet you there for bike-loading on Friday afternoon and/or early on Saturday, the 18th. By mid to late afternoon, we'll have you and your bike in the start town. You bike for seven days, back to your car.

 

Will PBV Run the East/West Shuttle on Friday as well as on Saturday Morning? Yes. This was a very popular option last year, and we'll do it again. You'll have a chance to think about it and talk to your friends. Later on, we'll ask you for your preferred departure day, Friday or Saturday.

 

What if I don't even bike but want to experience RAGBRAI? No problem. A handful of people participate as non-riders with our charter every year. Often they have a son, daughter, or spouse who is cycling with our charter. We'll carry you on our 56-passenger motorcoach from host town to host town. To arrange to join PBV as a non-rider, please contact us. I, Tammy, will visit with you about your week and what to expect. (Please note that non-riders traveling with charters may NOT bring their own vehicles, whether or not they have secured the RAGBRAI vehicle pass. We're sorry. This is a RAGBRAI rule, by which we must abide. If you're with a charter, you must leave the vehicle passes for self-supporting smaller families and groups.)

How Can I Get the Pork Belly Smartphone App? This year, we've had a record number of downloads on the free Pork Belly App. If you haven't done it yet, search 'Pork Belly Ventures' to find it at the Apple App Store or the Android Google Play Store. Our app includes daily ride maps, custom maps of host towns and PBV Campsites, Pork Camp Orientation showing trailers and equipment, Pork Crew photos and bios, and much more.

 

On RAGBRAI, we can sometimes experience Data-Band-Width-Challenged areas along the route. "This is what happens when you throw 10,000+ data-hungry riders into an area where the population is a fraction of that," says Dave Kennedy, our app expert. Dave and Katy, our app developer, have set up the app to download both the PBV Host Town Maps and RAGBRAI Route Maps directly to your phone prior to the ride. This has made it possible to enjoy the intended benefits of the app throughout your favorite week of the year.

 

App users can expect a notification of the brand new RAGBRAI route on Saturday night, thanks to Katy's diligence.

 

We're always trying to make the app better. If you have questions or need help with our app, feel free to email dave.kennedy@cox.net.

REGISTRATION WITH PBV AND RAGBRAI

 

How do I apply for services of PBV? How do I access my completed application? There's no login tab. At www.pkbelly.com, hit "Apply" in the center of your screen and follow the prompts, clicking "Submit" at the end. To access your completed application, either use the link on your confirmation email OR go back to "Apply" and login using your username and password.

 

When do I have a FIRM reservation with Pork Belly Ventures? Our payment policy is modeled on the policy of RAGBRAI itself. Your online application at pkbelly.com is a first step. Some people apply to check prices; others apply just in case they might want to use our charter. The next step, making a payment, is the only way we know for sure that an applicant intends to join Pork Belly Ventures. Some folks, even after reading this part of our letter, will apply but not send payment, and that's okay. We are not writing this to pressure anybody into sending payment before they want to; however, we must keep accurate counts of how many people definitely intend to use each of our services.

 

So here's the way it works. When you submit the application form, you will receive an auto-generated confirmation and invoice. The confirmation says that we'll hold your reservation for 10 days while you send payment. You conscientious people do not have to overnight payment or send it two-day air. You won't lose your place in the amount of time it takes to send payment by U.S. Post. If 10 days elapse and we don't receive payment, your application will remain on file. No need to re-apply, and please don't. You will not be included in our count or have an actual reservation for services until we receive a payment from you. When you do send payment, you'll receive another email, acknowledging receipt of the payment. Your original application will move from tentative status to definite status, and we'll include you in our counts for services. Should a service sell out before you send payment, we could put you on a waiting list for that service. By the way, the rental tents are usually the first service to sell out. We've had a lot of inquiries about tents, and we'll see how long they last.

 

In the past, we have spent a great deal of time repeatedly calling and emailing people who haven't paid, reminding them about payment. We don't really do that anymore, but we will notify everyone via our email updates if/when services are getting tight on space. We hope these updates will help you determine when to secure your spot with payment. It's up to each Porker to decide when he or she needs to have a firm reservation.

 

Finally, please don't use the strategy of re-applying every ten days to avoid sending payment. This causes problems. We will hold your original registration indefinitely, and you can activate it anytime by paying. If you find it more convenient to wait, by all means do.

 

Should I re-apply if I have trouble accessing my account?

No. Your email confirmation contains a link to your original application, so that you don't even need your username and password. If you forget your password, contact us so that we can resend your confirmation. Please don't re-apply. Duplicate applications really mess things up.

 

What form of payment may I use? We can take a check or money order in the mail.

 

What amount do I pay now? You can pay in full now; however, if it's more convenient for you to make two payments, please send around 25% now (round numbers are fine), and the rest by May 15th.

What is Pork Belly Ventures' cancellation policy? Please read this section and the next section on Trip Cancellation Protection carefully and contact us to make sure you understand BEFORE YOU REGISTER.

 

Before Monday, June 15th, you can still cancel part or all of your PBV services and receive a 90% refund for the services you have reserved. You can drop services or cancel entirely by phone or email, and we'll send you a refund check quickly. We'll also try to find you a buyer for your wristband.

 

We will include our written cancellation policy in at least six email updates prior to the deadline of June 15th: on or after the 15th of June, we will make no refund.

 

Hello from Tent City!

What is PBV Trip Cancellation Protection?

First of all, if you have any trouble understanding this option, you should call or email us for an explanation. You have only one opportunity to purchase this protection, at the time of your original registration. Once you have registered, our website will not allow you to go back and select this protection; however, if WITHIN TWO DAYS OF YOUR APPLICATION DATE, you decide to add protection, you can call us to make the change for you.

 

Here are some of the things that have happened to our RAGBRAIers during the last month before RAGBRAI. The boss decided they couldn't be spared at work. They have been diagnosed with an illness. A member of their family has needed support through a crisis. People have been struck by a car while training for the ride. Their plans for childcare have fallen through. They have lost a loved one. Although we-and every other tour operator-must have a refund deadline and cancellation policy, and although ours is quite liberal, and even though we have published our cancellation policy at least six times prior to the deadline every year, we can't help but feel for those people who cancelled out of necessity after the June deadline. After attending a conference of bicycle tour directors and discussing this issue with other tour operators, we offer this solution.

If you want to extend the 90% refund all the way through until Friday, July 17th, you can click on "Trip Cancellation Protection" on the online registration form. The non-refundable fee for this protection is five percent of the value of services you have reserved with PBV. (One exception: check with us please for trip cancellation protection on the PHAT Trailer Accommodations.)

 

This protection covers only the period from June 15 to July 17. This protection is not applicable to people who travel to Iowa for RAGBRAI and leave the ride early for any reason. This protection applies only to fees paid to Pork Belly Ventures, not your RAGBRAI registration fee or other travel expenses. To use this protection, you must contact us by time-stamped email by 10:00 p.m. on Friday, July 17. Your refund will be processed at our earliest convenience, possibly in the early days of August, if your cancellation comes at the last moment.

 

In short, without protection, you stand to lose 100% of your fees paid to PBV after June 15th. But by spending 5% up front on a non-refundable fee, you can get the 90% refund if you cancel for any reason all the way through July 17th at 10:00 p.m. You may purchase this protection at the original time of registration ONLY.

Our leafy campsite in Emmetsburg

Do I need a GROUP NAME when I register with Pork Belly Ventures? If two or more friends are joining Pork Belly, you should put a common group name on your registration forms, like "Jones Group" or "Lucy's Friends." If you want to be assigned to the same bus or be rental-tent neighbors, you must have the same group name on your applications.

 

Individuals coming to PBV by themselves should NOT fill in a group name. Please don't even type "just me" or "none." Leave that field blank.

 

How do I get an official RAGBRAI Wristband? At ragbrai.com, register electronically by April 1. Snail mail applications are due much earlier. By May, you'll know the lottery results, but if you're not selected, don't worry. See next question.

 

NOTE: Most folks with Pork Belly Ventures realize that they MUST have an official RAGBRAI wristband to travel with us. Very few people have tried to dodge this rule. In June, we'll ask for your wristband number, and you must be wearing your RAGBRAI wristband before we can give you your Pork Belly wristband.

 

Should I wait to learn my fate in the lottery before registering with PBV? Delay registering if you want to, but the lottery is not a reason to do so. If you are concerned about getting a rental tent, they could be gone by May (though we always have a waiting list). In the unlikely event that you are not selected in the lottery, we will introduce you to a wristband seller and help you follow the Register's simple procedure for transferring wristbands. We aren't allowed to promise, but in over twenty years, we have never not found a wristband for a patient buyer.

HOTELS, PARKING, AND BIKE SHIPPING

 

If I'm driving to the end town on Friday, how can I get reservations at a hotel? For hotel rooms in eastern Iowa near the end town, you may check the end-town website on about May 1st for nearby hotels. Or you might Google hotels relatively close to long-term parking. PBV will not have a designated hotel in eastern Iowa.

 

Will weeklong parking be available at the end town? Yes, and our east/west shuttle is typically located very near the long-term parking area. Hold tight and check the end-town website after May 1 to learn where long-term parking will be located exactly. Camping, food, and showers are often provided in the end town on the Friday night before RAGBRAI, and we'll know more after we scout in May.

 

If I'm flying or driving into Omaha, will I need reservations at a hotel? On the nights of July 18th through the 24th, you will be camping with PBV, but if you're flying into Omaha on Friday, the 17th, and/or returning with us to Omaha late on Saturday evening, the 25th, you will need Omaha hotel reservations. We have room blocks for both nights at two side-by-side hotels.

 

What are PBV's designated Omaha airport hotels? Our two side-by-side hotels at the Omaha airport are the Holiday Inn Express and the Candlewood Suites. These hotels are owned by the same company and run by an excellent team of managers.

 

Our contract ensures that guests at one hotel are welcome to the services of the other. Your breakfast and a swimming pool are located at Holiday Inn Express, and Candlewood guests will walk half a block for those services. All Pork Belly buses and trucks will load and unload on the north side of the Candlewood Suites. Pork Belly Ventures has room blocks at both hotels. There are advantages to both hotels, but walk half a block and you get all amenities, no matter where you stay. Your choice:

 

Holiday Inn Express, 402-505-4900:

Mention our name to reserve your king or double queen room for $129.
Hot breakfast served here (Candlewood guests will walk over for breakfast)
Swimming pool located here (Candlewood guests have access, too)
Hospitality areas available to our guests before and after RAGBRAI.
Triple-sheeting is the standard at this hotel.
Across the street from a large convenience store and Subway sandwich shop.
Reasonable weeklong airport parking and valet service provided by Budget (about $5 per day)
Free airport shuttle and Old Market shuttle provided by Budget. (Omaha's Old Market is a great place for shopping, music, and dining on the Friday before RAGBRAI.)

Candlewood Suites, 402-342-2500:

Mention our name to reserve your king or double queen room for $129.
North side of Candlewood is the site of our bus loading and unloading (Holiday Inn Express guests walk over and back.)
The site of free laundry (Holiday Inn Express guests can do laundry here too.)
Hospitality areas available to our guests before and after RAGBRAI.
Triple-sheeting is the standard at this hotel.
Across the street from a large convenience store and Subway.
Reasonable weeklong airport parking and valet service provided by Budget (about $5 per day)
Free airport shuttle and Old Market shuttle provided by Budget. (Omaha's Old Market is a great place for shopping, music, and dining on the Friday before RAGBRAI.)
Breakfast served next door, but great little convenience store in the lobby with CHEAP everything.

Because Holiday Inn is located in Iowa, and Candlewood Suites is located in Nebraska (yes, they are side-by-side), the tax on Candlewood is 6% more. And if you reserved at Candlewood online, please change your reservation by phoning the hotel directly. Your rate will be reduced to our negotiated rate of $129 per night.

 

All Pork Belly buses will depart from and return to the Omaha airport Candlewood Suites, next door to the Holiday Inn Express.

 

We are confident that these two hotels can accommodate everyone using our charter. If you are part of a large group coming into Omaha, please reserve only as many rooms as you will use. If you find you don't need them, release rooms back to our block. For safety reasons, the hotel staff will need an occupant's name for every room and a credit card number for each occupant (one per room). Cardholder and occupant should be the same person.

 

Will weeklong parking be available near the Omaha airport? Yes, and there is no need to reserve it in advance. Expect to pay $5 a day for Budget Airport Parking, which serves both hotels. Valet service is available from the hotels. A shuttle will assist you in retrieving your car from Budget at week's end.

 

May I ship my bike and/or luggage to and from PBV, before and after the ride? Sure, but only through sendmybike. We will be sending complete instructions about bike-shipping in a later update. For now, you can assume the following:

You must use sendmybike to ship baggage or bikes to PBV.
The price will be very close to FedEx retail shipping.
Your shipped items will be waiting for you at our first campsite.
If you're on our Weeklong Support, you will have the free assistance of our mechanics to get your shipped bike ready for the road.
You will have the opportunity to package and ship your bike or bags home from the end of RAGBRAI, either by packing the bike up yourself or by turning the bike, case, and shipping label over to our mechanics, who will do the job in an air-conditioned bike shop. Stand by for details in our bike-shipping update.
You should NOT use any other RAGBRAI bike- or luggage-shipper, unless you want to walk a long distance from our camp to claim your shipped items.

Given the increased fees for your luggage on the plane, shipping luggage is becoming a reasonable alternative to dragging bags through an airport. Particularly your camping duffel with tent, sleeping bag, and camping stuff can be shipped to PBV prior to RAGBRAI and shipped from our campsite at ride's end. (Just bear in mind our two-bag limit during the week.)

 

Pork Belly Ventures is a dealer for Serfas Hard-shell Bike Cases. See pkbelly.com, and click on Serfas Hard Case.

Bright green shirts will help you spot our Pork Crew.

OTHER IMPORTANT QUESTIONS

 

Who is Pork Belly Ventures LLC?

We are a brother/sister team, Pete Phillips and Tammy Pavich, partners in Pork Belly Ventures for over twenty years. Our whole family lives here in our hometown, Council Bluffs, Iowa, right across the river from Omaha, Nebraska. Our charter is best known for our Weeklong Support, full of extras and relative luxuries, described in greater detail above. We take pride in Iowa's hospitality and the kindness of people you'll meet all across our home state.

Reggie and Tadpole

The Pork Belly crew will amaze you with their helpful, cheerful attitudes. Though their days are long and hard, they stay strong and chipper all week long. Many are schoolteachers, farmers, firefighters, and paramedics. The new generation is a muscular, energetic bunch of youngsters (many of them sons and daughters of schoolteachers, farmers, firefighters, and paramedics) who make the physical labor of PBV look almost easy. Our mom and dad help us in more ways than we can tell you.

Here's Emma handing out Pork Belly Team Shirts on Day 1. It was chilly!

And finally, a word about the folks who pass the corn with us. We seem to have a growing number of very fit men and women in their seventies who ride every year with us; however, most of our charter is thirties, forties, fifties, and sixties. You'll meet some youngsters, too. Every state in the union, several foreign countries, most professions, and many lifestyles, ethnicities, and cultures will be represented on our charter. Be sure to sit down under the canopies and strike up a conversation with a new acquaintance-you'll learn something. Every year, we're grateful for the first-timers who decide to give Iowa a try and for our RAGBRAI veterans who come back again to pass the corn.

Pork Belly Ventures operates in full compliance with the Iowa and U.S. Departments of Transportation.

What does it take to be a Porker? In short, can you roll with it? When you're sweaty, hot, hungry, and tired (and you will be), can you take it in stride? You'll soon be cleaned up, cooled down, sated, and rested, so in the meantime, treat the people who serve you, namely our friendly, hard-working crew, with courtesy. Courtesy. Courtesy. We will do our level best to help you have a great time. If you can shrug off a little temporary discomfort and keep your expectations reasonably low, you're a good match for Iowa and PBV.

 

The best description of our charter is "neighborhood block party," not "college frat party," so with us, you're signing on for good, wholesome, healthy fun and quiet after 10:00 p.m. If you want a hard party or a late party, we're not a good fit for you.

 

What if I have a problem or a special situation? Tell us what you need, and we'll try to help.

 

What do I NEED TO KNOW about my July vacation?

We're going to send you about 30 email updates over the next six months to offer you special services, remind you of deadlines, give you a sense of our charter, and get you ready for this thing.

 

The most important document to read is your June Letter, published as an email update in early June. This is your one-stop for information on traveling with our charter. It will provide deadlines, schedules, and lots of other important stuff. You can delay reading other updates or skip them with little consequence. But you have to read your June Letter. Otherwise you could miss the bus!

What should I do right now? Go to pkbelly.com and hit Apply, where you can login to update an application or create a new one. When you hit Submit, you'll receive a confirmation/invoice by email. We will hold your reservation for ten days while you mail in a payment.

 

And we're here to answer your questions, Porkers. Please write to tammypav@cox.net or call me to talk about our services, your needs, and our Week in the Corn.




Here's your bonus. Click HERE for 2014 SLOW-MOTION TOILET-TOSS VIDEO. It's a beautiful thing.

 

We hope it makes you want to toss your own toilet in July. Or find the best-ever tenderloin. Or clip a few playing cards to your spokes and listen to that whirrrrr as you pedal past the corn. If you need an official invitation, here it is. Join us, please, for all the good stuff of RAGBRAI 2015.

 

Your Friends,

Tammy (Phillips) Pavich 712/328-0161 or tammypav@cox.net

Pete Phillips 712/328-6836 or petephillips@cox.net

 

Pork Belly Ventures LLC | tammypav@cox.net | petephillips@cox.net |http://www.pkbelly.com
412 Forest Glen Drive
Council Bluffs, IA 51503